Infographics Congres 2015
Ook dit jaar produceerde in60seconds de introanimatie voor het jaarlijkse Infographics Congres. Het thema voor de editie van 2015 was "Infographics are here". Hiervoor zijn we 'out of space' gegaan, om zo door een sterrenstelsel vol planeten en objecten te vliegen die het werk of verhaal van de sprekers uitbeelden.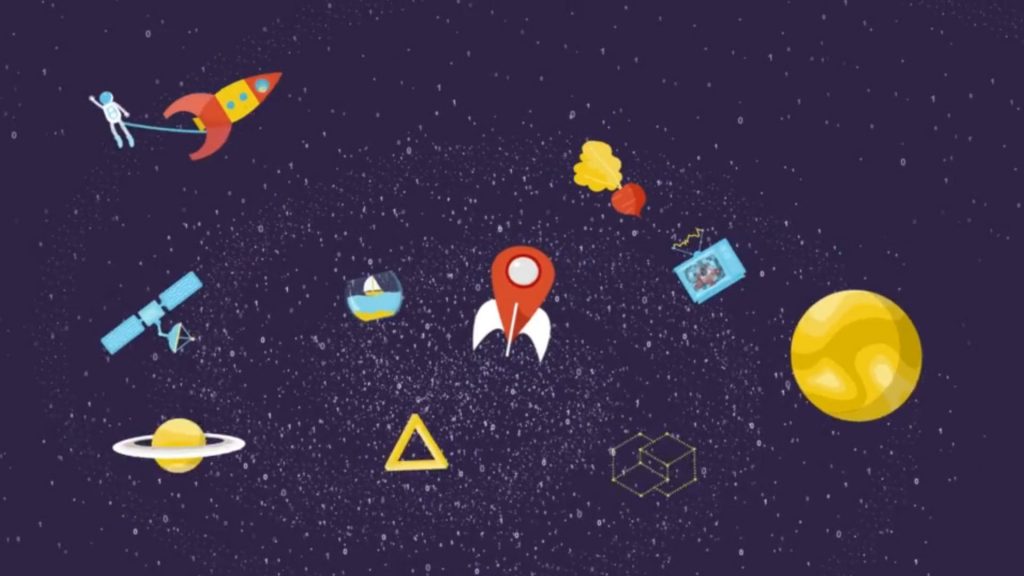 De animatie voor het congres
De animatie begint in 'de cockpit' van de raket. Je ziet allerlei knipperende lampjes en radars. Na het aftellen wordt de raket de ruimte ingeschoten. Eenmaal daar vliegt de camera langs de verschillende planeten en objecten van de sprekers. Hier zitten komische elementen bij, zoals een langsvliegende kroot of een astronaut die met alle moeite naar data probeert te grijpen.
Als de camera langs alle onderdelen is gevlogen, zoomt de camera uit en zie je de raket in zijn geheel. De camera blijft verder uitzoomen, waardoor alle onderdelen in het sterrenstelsel te zien zijn.Het kleurenpalet van de animatie is opgebouwd vanuit de huisstijlkleuren van dit congres. Bij dit thema was een pointer gebruikt als terugkomend icoon; 'Infograhpics are here'.
"Alle bezoekers zagen onze animatie op het grote scherm"
Deze pointer is in de animatie gebruikt om de namen van de sprekers aan te wijzen. De animatie heeft een soort 'parallax' effect. Dit houdt in dat objecten die dichter bij de camera staan sneller voorbij vliegen dan objecten die verder van de camera afstaan. Dit maakt de 'ruimte' beleving van de kijker nog groter. Na de afloop van de video hadden we op het Infographic Congres een ware astronaut die de introvideo afsloot door een levensgrote pointer op het podium neer te zetten.